Your local Oxfam shop is the perfect place to snap up pre-loved clothes, books, vintage items and lots of other hidden treasures

Every penny or cent you spend in any one of our shops in Ireland helps to support our wonderful work around the world. Our shops also accept any unwanted clothes or other items you might have – so do yourself, and others, real good and drop in today!
From impulse purchases to that top that colour clashes (and not in a good way) with the rest of your wardrobe, we all have things taking up precious space in our closets and on our shelves. By donating to Oxfam, you'll be freeing up space in your life and making a real difference to people affected by poverty.
Home & Furniture
From budget buys to sought-after design classics, our Oxfam Home shops have something for everyone. With our extensive selection of furniture, antiques, tableware, ceramics, artwork, electrical goods, homewares and fabrics, you can transform your home for less while helping to fund our vital work around the world with communities affected by poverty. If you have unwanted household items you'd like to donate, your nearest Oxfam Home would love to hear from you. With everything from antique china tea-sets to Chesterfield sofas, our Oxfam Home shops are a treasure trove of collectors' items along with good quality, practical essentials such as dining room table suites, wardrobes, desks, sofas and chairs. And if you're looking for the finishing touches like artwork, crockery and lighting, our shops in Belfast and Dublin have it covered.
Bridal & Wedding
Did you know that 90% of our dresses are brand new and have been gifted to Oxfam by designers and bridal boutiques? You don't have to spend a fortune to look a million dollars. We've got a beautiful collection of brand new and pre-loved wedding dresses along with accessories. From vintage to the occasional Vera Wang, our dedicated Oxfam Bridal boutiques in Dublin and Belfast stock all styles and sizes. By supporting Oxfam, your big day creates a brighter future for people affected by poverty.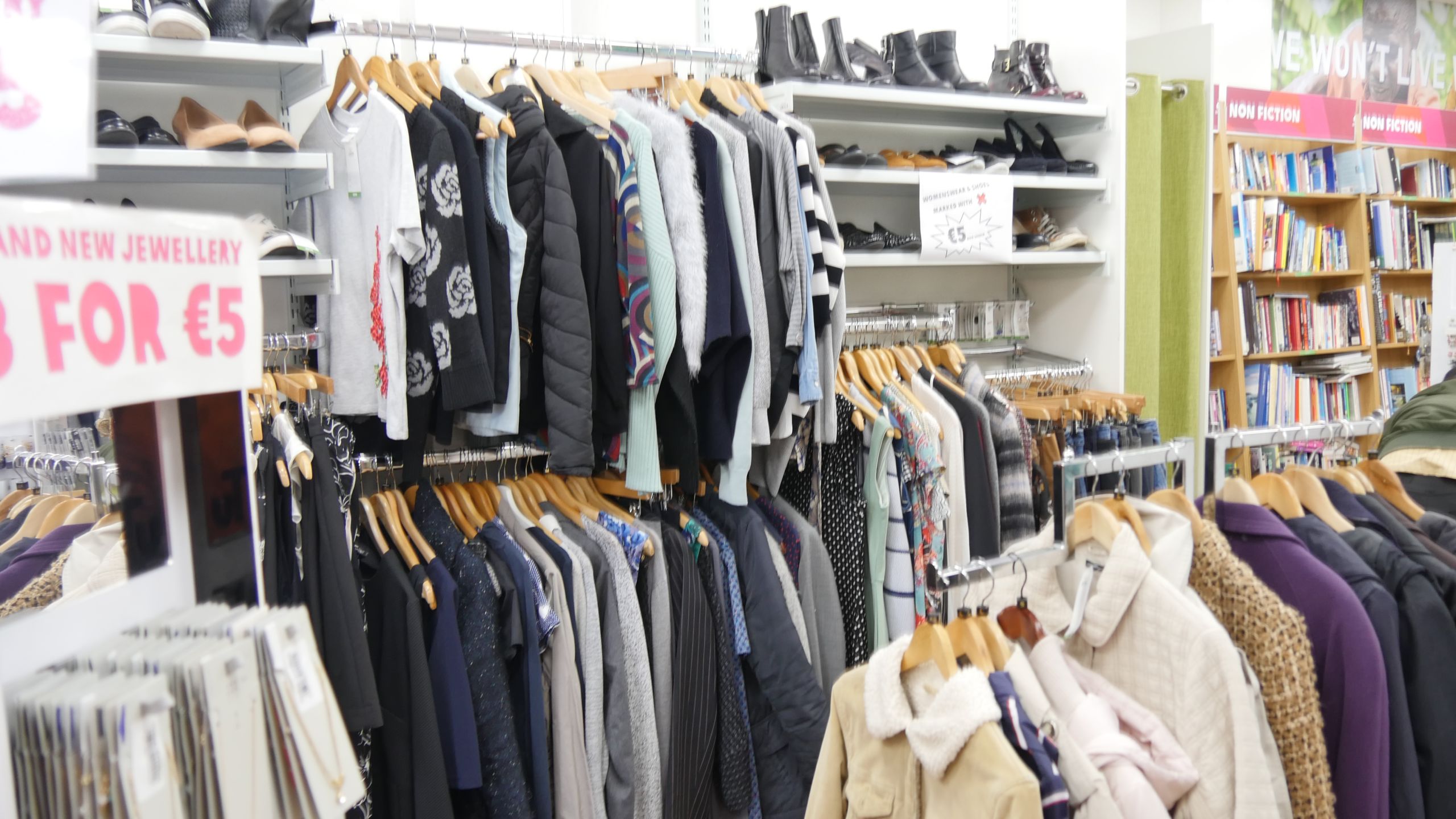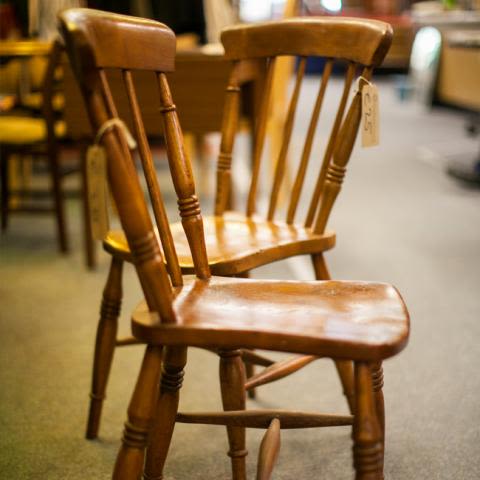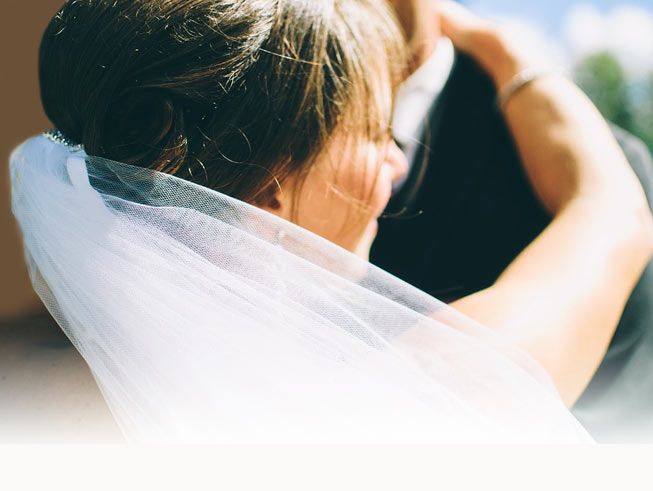 Republic of Ireland Shops
Bray
8 Quinsboro Road, Bray, Co. Wicklow, A98 W0V5
01 286 4173 | bray@oxfam.org
Castlebar
Link Road, Castlebar, Co. Mayo, F23 YP40
094 903 4876 | castlebar@oxfam.org
Cork (Cook St)
10 Cook Street, Cork, Co. Cork T12 T611
021 427 5490 | cookstreet@oxfam.org
Cork (Frenchchurch Street)
18A French Church Street, Cork, Co. Cork, T12 YK59
021 480 6540 | frenchchurchstreet@oxfam.org
Dundrum
6 Main Street, Dundrum, Dublin 14, D14 Y3Y4
01 298 9637 | dundrum@oxfam.org
Dun Laoghaire
43 Lower Georges Street, Dun Laoghaire
01 280 5555 | dunlaoghaire@oxfam.org
Francis Street
86 Francis Street, Dublin 8, D08 E4E7
01 402 0555 | francisstreet@oxfam.org
Galway
Abbeygate House, 9 Lwr. Abbeygate St, Galway, Co. Galway, H91 W1XA
091 561 491 | galway@oxfam.org
George's Street
Unit 2, Wicklow House, South Great George's Street, Dublin 2, D02 TX84
01 478 0777 | georgesstreet@oxfam.org
Kilkenny
48 High Street, Kilkenny, Co. Kilkenny, R95 V4P8
056 776 2085 | kilkenny@oxfam.org
Limerick
57 William Street, Limerick, Co. Limerick, V94 FT2P
061 413 244 | limerick@oxfam.org
Malahide
6 Church Road, Malahide, Co. Dublin, K36 RH22
01 845 4319 | malahide@oxfam.org
Mullingar
3 Oliver Plunkett Street, Mullingar, Co. Westmeath, N91 V211
044 933 5474 | mullingar@oxfam.org
Navan
31 Trimgate Street, Navan, Co. Meath, C15 RP80
046 902 3476 | navan@oxfam.org
Parliament St
23 Parliament Street, Dublin 2, D02 TX97
01 670 7022 | parliamentstreet@oxfam.org
Phibsboro
67 Phibsboro Road, Phibsboro, Dublin 7, D07 EP02
01 830 9550 | phibsboro@oxfam.org
Portlaoise
JFL Avenue, Portaloise, Co. Laois, R32 R97W
057 866 4799 | portlaoise@oxfam.org
Rathfarnham
12a Main Street, Rathfarnham, Dublin 14, D14 C6W8
01 492 9484 | rathfarnham@oxfam.org
Rathmines
232 Rathmines Road, Rathmines, Dublin 6, D06 K2E9
01 496 6717 | rathmines@oxfam.org
Ringsend
Fitzwilliam St (Beside Tesco), Ringsend, Dublin 4, D04 T9X5
01 668 8708 | ringsend@oxfam.org
Sligo
17 Grattan Street, Sligo, Co. Sligo, F91 PD63
071 913 8913 | sligo@oxfam.org
Talbot Street
6 Talbot Street, North City, Dublin 1, D01 VR62
01 8746835 | talbotstreet@oxfam.org
Tralee
6 Abbey Court, Tralee, Co. Kerry, V92 C962
066 712 7655 | tralee@oxfam.org
Tullamore
3 Patrick Street, Tullamore, Co. Offaly, R35 R657
057 932 2801 | tullamore@oxfam.org
Waterford
8 George's Street, Waterford, Co. Waterford, X91 VH6E
051 854 090 | waterford@oxfam.org
Wexford
89 North Main Street, Wexford, Co. Wexford, Y35 A3XK
053 912 3944 | wexford@oxfam.org
Northern Ireland Shops
Ballyhackamore
Ballymena
Bangor
Botanic
Castle Court
Coleraine
Cregagh Road
Derry
Dublin Road
Enniskillen
Fountain Street
Holywood
Lisburn
Newtownards
Omagh
Ormeau Road
Oxfam Books (Ann Street)
Oxfam Books (Botanic)
Portadown